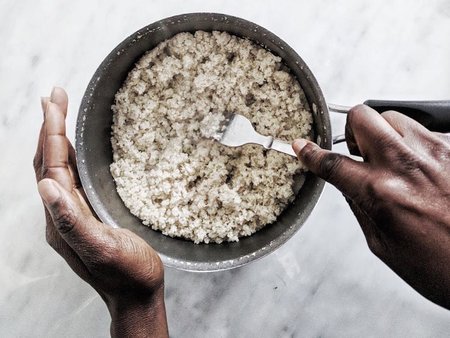 How to Make Fonio
Cooked Fonio
Ingredients:
½ cup fonio
1 teaspoon oil
Instructions:
1. Turn heat to high
2. Add 1 cup water and bring to a boil.
3. Add a pinch of salt and stir.
4. Cover and turn to low heat for one minute (fitted lid).
5. Turn off heat, keep covered and let rest 4 minutes.
6. Fluff with a fork, and serve hot or cold.
Serve: makes 2 cups
Fonio Couscous

Ingredients:
¼ cup fonio
½ cup water
½ tablespoon butter or oil
Instructions:
1. Bring the ½ cup water to boil.
2. Add butter/oil and the fonio.
3. Stir, cover and reduce heat to low for 3 minutes.
4. Remove from heat, stir and cover for 2 minutes before serving.
5. Add a little more boiling water if sticky or reheat if damp.
Fonio Salad
1/4 cup chopped cucumber, 1/2 cup plum or cherry tomatoes, 1/2 cup chick peas, 1/2 cup yellow and red pepper, 2 tablespoon chopped parsley.
Instruction:
In bowl combine olive oil, lime and salt. Add tomatoes, cucumber, parsley, chick peas, yellow pepper, red pepper, and prepared fonio (from above recipe).